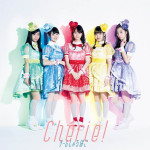 Team Syachihoko's new single Chérie! will be released on April 7th.
It is the opening theme song for the anime Neko Neko Nihonshi (ねこねこ日本史) which will start airing on NHK Eテレ on April 6th.
The MV includes QR codes providing additional contents such as behind the scene footage or links to Harajuku fashion shops websites.
A special illustration featuring Team Syachihoko members as cat characters from the anime has been revealed (see below).
The song title comes from a french word which can be translated as "sweetheart". It aims to express the cuteness of the girls.
The song was played for the first time on March 9th on the show Team Syachihoko Gobureimashita (チームしゃちほこ ごぶれいしました!) on CBC Radio.
The Type C limited included a bonus Blu-ray with videos from Otome Matsuri 2016. The live performance was held in February at Zepp DiverCity Tokyo.
The idol group is going to celebrate its 5th anniversary this year.
Tracklist
Type A

CD

Chérie!
Kemono no Hanamichi (ケモノノハナミチ)
Cherie! (Off Vocal)
Kemono no Hanamichi (Off Vocal)
Type B

CD

Chérie!
Rarirariho (ラリラリホー) (Habanero Posse Remix)
Cherie! (Off Vocal)
Type C / Regular

CD

Chérie!
Wow Oh! Oh!
Chérie! (Off Vocal)
Wow Oh! Oh! (Off Vocal)
Blu-ray

Otome Matsuri 2016 「乙女祭り2016」@Zepp DiverCity Tokyo (2016.2.14)

BASYAUMA ROCK
Akamiso Blood (赤味噌Blood)
Notteke Mensore (ノッてけめんそーれ)
Otome Matsuri 2016 Digest (乙女祭り 2016 ダイジェスト)
Music Video (PV)