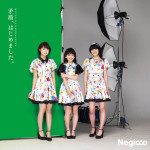 Negicco's new single Mujun, Hajimemashita (矛盾、はじめました。) will be released on March 29th.
Especia members Tominaga Haruka, Mori Erika, Sannomiya Chika, Mise Chihiro, Wakita Monari, and Lyrical School's Mei and Yumi are making a guest appearance in the MV.
The lyrics of Mujun, Hajimemashita were written by former Cymbals lead singer Toki Asako. The music was composed by Sakai Yu.
Negicco's producer Connie wrote and composed the coupling song Rakuen no Yoin.
The music is performed by the idol group's backup band NegiBand.
The artwork was designed by Miyahara Muga.
In addition, Negicco Second Tour "The Music Band of Negicco" is being held from February to April 2016.
Tracklist
CD

Mujun, Hajimemashita (矛盾、はじめました。)
Rakuen no Yoin (楽園の余韻)
Mujun, Hajimemashita (Instrumental)
Rakuen no Yoin (Instrumental)
Edition : Regular / Type A – B – C / 7-inch
Music Video (PV)