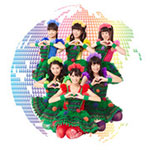 Team Syachihoko's new digital single Daisuki! (大好きっ!) will be released on February 14.
It will only be available on iTunes Store.
This song is used by the special unit Team SyachiChoco (チームしゃちチョコ) for the campaign promoting Lotte's Valentine's Day chocolates.
The announcement was made on February 2 during the show Syachihoko TV on Ustream.
Daisuki! (大好きっ!) was sung for the first time by the idol group last year during the live performance Ai no Chikyuu Matsuri (愛の地球祭り2013).