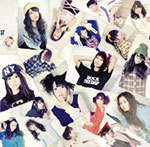 LinQ's new album Awake ~LinQ Dai 2 Gakushou~ (Awake~LinQ第二楽章~) will be released on March 26.
This is the 1st major album from LinQ. 3 versions are available.
The CD contains 14 tracks including songs from their latest singles and 4 new ones.
The limited editions come with a bonus DVD featuring live footage from Chikappa Zenkoku Tour 2013 ~Arata na Chousen no Hajimari~ (ちかっぱ全国ツアー2013 ~新たな挑戦の始まり~) or Team LinQ Shuurai!! ~Inori wo Komete~ (Team LinQ 襲来!! ~祈りを込めて~).
Furthermore, LinQ 3rd Anniversary Live will be held on April 20 at Zepp Fukuoka.
The idol group released its 3rd major single Colorful Days (カラフルデイズ) on January 22. It reached the 2nd position on Oricon weekly ranking.
Tracklist
CD

Chime ga Owareba (チャイムが終われば)
Fukuoka Ii to (フクオカ好いとぉ)
Garnet
Wake up
Colorful Days (カラフルデイズ) (Hakata Track)
Motto Motto Itsuka Kitto (もっともっといつかきっと)
Ame ni Nuretemo (雨にぬれても)
Friend
Egao ni LinQ (笑顔にLinQ)
Calorie Nante (カロリーなんて)
Hanabi!!
Mirai Nikki (未来日記)
DVD (Type A)

Chikappa Zenkoku Tour 2013 ~Arata na Chousen no Hajimari~ 【ちかっぱ全国ツアー2013 ~新たな挑戦の始まり~】
Making Movie in Fukuoka

for you
Calorie Nante (カロリーなんて)
Dance Number
Shiawase no Energy (シアワセのエナジー)
Calorie Nante (カロリーなんて) (in Osaka / in Nagoya)
Colorful Days (カラフルデイズ)
Egao ni LinQ (笑顔にLinQ)
No Lady, No Life
Chocolate Kiss
Lemon Tea (レモンティー)
Shining Star -remix-
Chime ga Owareba (チャイムが終われば)
Matsuri no Yoru ~Kimi wo Suki ni Natta Hi~ (祭りの夜~君を好きになった日~)
Fukuoka Ii to (フクオカ好いとぉ)
DVD (Type B)

Team LinQ Shuurai!! ~Inori wo Komete~ 【Team LinQ 襲来!! ~祈りを込めて~】
Making Movie

Shining Star
Shiawase no Energy (シアワセのエナジー)
Wake up
Hajimemashite (ハジメマシテ)
Let's Feel Together
Sakura Kajitsu (さくら果実)
Lie
Te wo Tsunaide (手をつないで)
Egao ni LinQ (笑顔にLinQ)
LaLaLa ~Lady version~
LaLaLa ~Qty version~
Hanabii!!
Matsuri no Yoru ~Kimi wo Suki ni Natta Hi~ (祭りの夜~君を好きになった日~)