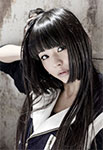 Terashima Yufu announced her withdrawal from BiS (Brand-new Idol Society). She will leave the group after the one-man live BiS4 to be held on May 26 at Club Asia, Tokyo.
She explained that she decided to withdraw because she didn't like the direction taken by the unit.
Terashima Yufu joined BiS in June 2011. She is the 2nd member to leave the group this year after the graduation of Wakisaka Yurika on March 16.
BiS is currently holding auditions to recruit new members.