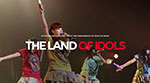 The Land of Idols is a documentary about the Japanese idol phenomenon.
Some idols such as Drop, Kyueens Fujisaki Luchino, and more, will be featured in the documentary.
A crowdfunding campaign has been launched on Indiegogo to cover a part of the production cost.
The Land of Idols is directed by Jean-Armand Bougrelle.
The subject matter of the film is described as follows:
"From sprawling urban Tokyo to the rural hamlets of Japan, from record breaking mega girl-bands to underground idols of Akihabara, The Land of Idols offers a journey through one of the most significant creations of Japanese pop culture."
Bougrelle, a produced screenwriter and longtime resident of Japan, draws on his film and TV experience to explore his deep interest in the idol phenomenon.
A crowdfunding campaign has just been launched on Indiegogo, offering more details on the film and people involved, a series of promotional videos, and a variety of perks for contributors. A subsequent Japanese campaign is also forthcoming.
The Land of Idols begins shooting in Tokyo this month.
Presentation Videos
Links