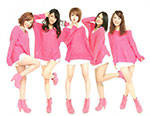 The Possible's new single Zenryoku Banzai! My Glory! (全力バンザーイ!My Glory!) will be released on April 10.
The limited editions include a solo version of the title song performed by each member.
The Possible will hold a series of concerts titled Weekly Accoustic Live from February 26 to March 21 at Akihabara AsoBit City, Tokyo.
Regular Edition
CD

Zenryoku Banzai! My Glory! (全力バンザーイ!My Glory!)
Saa Koi! Happiness! (さぁ来い!ハピネス!)
Zenryoku Banzai! My Glory! (全力バンザーイ!My Glory!) (Instrumental)
Saa Koi! Happiness! (さぁ来い!ハピネス!)
Type A (Robin Edition)
CD

Zenryoku Banzai! My Glory! (全力バンザーイ!My Glory!)
Dakara ne Zettai Da yo… (だからね 絶対だよ…)
Zenryoku Banzai! My Glory! (全力バンザーイ!My Glory!) (Okada Robin Shoko Solo Version)
Dakara ne Zettai Da yo… (だからね 絶対だよ…) (Instrumental)
Zenryoku Banzai! My Glory! (全力バンザーイ!My Glory!) (Instrumental)
Type B (Hashimon Edition)
CD

Zenryoku Banzai! My Glory! (全力バンザーイ!My Glory!)
Dakara ne Zettai Da yo… (だからね 絶対だよ…)
Zenryoku Banzai! My Glory! (全力バンザーイ!My Glory!) (Hashimoto Aina Solo Version)
Dakara ne Zettai Da yo… (だからね 絶対だよ…) (Instrumental)
Zenryoku Banzai! My Glory! (全力バンザーイ!My Glory!) (Instrumental)
Type C (Akkyan Edition)
CD

Zenryoku Banzai! My Glory! (全力バンザーイ!My Glory!)
Dakara ne Zettai Da yo… (だからね 絶対だよ…)
Zenryoku Banzai! My Glory! (全力バンザーイ!My Glory!) (Akiyama Yurika Solo Version)
Dakara ne Zettai Da yo… (だからね 絶対だよ…) (Instrumental)
Zenryoku Banzai! My Glory! (全力バンザーイ!My Glory!) (Instrumental)
Type D (Mororin Edition)
CD

Zenryoku Banzai! My Glory! (全力バンザーイ!My Glory!)
Dakara ne Zettai Da yo… (だからね 絶対だよ…)
Zenryoku Banzai! My Glory! (全力バンザーイ!My Glory!) (Morozuka Kanami Solo Version)
Dakara ne Zettai Da yo… (だからね 絶対だよ…) (Instrumental)
Zenryoku Banzai! My Glory! (全力バンザーイ!My Glory!) (Instrumental)
Type E (Goto Edition)
CD

Zenryoku Banzai! My Glory! (全力バンザーイ!My Glory!)
Dakara ne Zettai Da yo… (だからね 絶対だよ…)
Zenryoku Banzai! My Glory! (全力バンザーイ!My Glory!) (Goto Yuki Version)
Dakara ne Zettai Da yo… (だからね 絶対だよ…) (Instrumental)
Zenryoku Banzai! My Glory! (全力バンザーイ!My Glory!) (Instrumental)