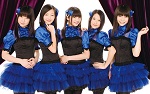 Tokyo Girls' Style 3rd Japan Tour ~Yakusoku (〜「約束」〜) will be held from April 20 to May 19.
Concerts will take place in Tokyo, Nagoya, Osaka, Fukuoka, Sendai, Sapporo, and Yokohama.
The name of the live tour refers to the title of Tokyo Girls' Style's 3rd album Yakusoku (約束) which will go on sale on January 30.
Schedule
20/04/2012

Time : 16:00
Venue : Zepp Tokyo
27/04/2012

Time : 17:00
Venue : Zepp Nagoya
28/04/2012

Time : 17:00
Venue : Zepp Namba, Osaka
03/05/2012

Time : 17:00
Venue : Zepp Fukuoka
05/05/2012

Time : 17:00
Venue : Rensa, Sendai
12/05/2012

Time : 17:00
Venue : Zepp Sapporo
18/05/2012

Time : 18:15
Venue : Yokohama Blitz
19/05/2012

Time : 16:00
Venue : Yokohama Blitz