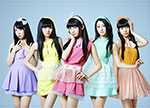 Tokyo Girls' Style's new album Killing Me Softly will be released on June 4.
This is the 4th album from Tokyo Girls' Style.
The short version of the MV for Killing Me Softly and All Track Introduction have been released.
In addition, a special website has been opened.
The CD contains 14 songs including the idol group's latest singles Unmei and Partition Love, the remix of Get the Star and Last Forever, and new songs.
It also includes their upcoming single Juujika ~Gakko no Kaidan -Noroi no Kotodama- ver. (十字架 ~映画『学校の怪談 -呪いの言霊-』Ver.~) which will be released on May 21. It is the original soundtrack of the horror movie Gakko no Kaidan -Noroi no Kotodama- (学校の怪談 -呪いの言霊-) in which the members of Tokyo Girls' Style are playing.
3 editions are available. Each one includes different bonus tracks.
The Type A and B editions come with a DVD featuring several MV, making-of and special footage.
Furthermore, Tokyo Girls' Style will participate in J-Pop Summit Festival 2014 in San Francisco, USA, on July 19-20.
Tracklist
Type A

CD

Intro
Killing Me Softly
Partition Love
Unmei (運命)
Mine
Chiisana Kiseki (ちいさな奇跡)
Juujika (十字架)
タイトル未定(TGS35)
タイトル未定(TGS36)
Renai Etude (恋愛エチュード)
outro
Get The Star -Royal Mirrorball Mix-
Last Forever -Royal Mirrorball Mix-
[Bonus Track] Tsuki no Kimagure (月の気まぐれ)

DVD

Yakusoku (約束) (Music Video)
Unmei (運命) (Music Video)
Get The Star (Music Video)
Chiisana Kiseki (ちいさな奇跡) (Music Video)
Partition Love (Music Video)
Tsuki no Kimagure (月の気まぐれ) (Music Video)
Juujika ~Movie "Gakkou no Kaidan" -Noroi no Kotodama-~ Ver. (十字架 ~映画「学校の怪談 -呪いの言霊-」) Ver.~ (Music Video)
Killing Me Softly (Music Video)
[Special Movie] Partition Love -Short Movie- Making
Type B

CD

Intro
Killing Me Softly
Partition Love
Unmei (運命)
Mine
Chiisana Kiseki (ちいさな奇跡)
Juujika (十字架)
タイトル未定(TGS35)
タイトル未定(TGS36)
Renai Etude (恋愛エチュード)
outro
Get The Star -Royal Mirrorball Mix-
Last Forever -Royal Mirrorball Mix-
[Bonus Track] Partition Love -Chinese ver.- (-中国語 ver.-)

DVD

Yakusoku (約束) (Music Video)
Unmei (運命) (Music Video)
Get The Star (Music Video)
Chiisana Kiseki (ちいさな奇跡) (Music Video)
Partition Love (Music Video)
Tsuki no Kimagure (月の気まぐれ) (Music Video)
Juujika ~Movie "Gakkou no Kaidan" -Noroi no Kotodama-~ Ver. (十字架 ~映画「学校の怪談 -呪いの言霊「学校の怪談 -呪いの言霊-」 Ver.~) (Music Video)
Killing Me Softly (Music Video)
[Making Movie] 4th Album Making Movie
[Special Movie] Odekake Movie (おでかけムービー)
Type C

CD

Intro
Killing Me Softly
Partition Love
Unmei (運命)
Mine
Chiisana Kiseki (ちいさな奇跡)
Juujika (十字架)
タイトル未定(TGS35)
タイトル未定(TGS36)
Renai Etude (恋愛エチュード)
outro
Get The Star -Royal Mirrorball Mix-
Last Forever -Royal Mirrorball Mix-
[Bonus Track] Tsuki no Kimagure (月の気まぐれ)
[Bonus Track] Chim Chim Cherry (チム・チム・チェリー)
Music Video (PV) & All Track Introduction