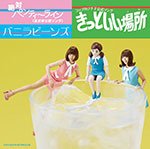 Vanilla Beans' 11th single Kitto Ii Basho (Fuchi) / Zettai Panty Line (きっといい場所(フチ) / 絶対パンティーライン) will be released on June 18.
Kitto Ii Basho (Fuchi) is the official song for Cup no Fuchico (コップのフチ子) by Vanilla Beans.
The MV has been released.
Cup no Fuchico is a cute figure that you can put on top of a cup or a glass. You can see it on the CD cover and in the MV.
In addition, Vanilla Beans, T-Palette Records label and Cup no Fuchico are holding a special campaign titled No Music, No Fuchico? in Tower Records stores since April.
The limited edition comes with a bonus DVD featuring the music video.
Furthermore, Vanilla Beans will hold released events and live performances between June 17 and 22 in Tokyo.
Tracklist
CD

Kitto Ii Basho (Fuchi) (きっといい場所(フチ))
Zettai Panty Line (絶対パンティーライン)
Kitto Ii Basho (Fuchi) (きっといい場所(フチ)) (Instrumental)
Zettai Panty Line (絶対パンティーライン) (Instrumental)
DVD

Cup no Fuchico Official Song Kitto Ii Basho (Fuchi) (コップのフチ子公式ソング きっといい場所(フチ)) (Music Video)
Music Video (PV)