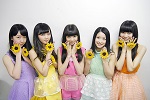 In conjunction to their participation at the 2014 J-Pop Summit Festival and their concert in San Francisco, USA, Tokyo Girls' Style has launched a crowdfunding project titled "Let's All Join Hands to Make Sunflowers Bloom Girls' Style in San Francisco".
The goal of this project is to make a special TV documentary about Tokyo Girls' Style's US Live Concert debut at Union Square in San Francisco in July. This documentary will be co-produced by Space Shower TV Plus.
It will include interviews with the members of the idol group, and footage from their other appearances at the J-Pop Summit.
Replica sunflowers will be distributed to people attending the special J-Pop Live at Union Square on July 19, and Tokyo Girls' Style will ask the audience to wave them in unison when they sing an English version of their hit song Himawari to Hoshikuzu (ヒマワリと星屑, Sunflowers and Stardust), enveloping the entire area in a sea of sunflowers and summer color. The performance will be captured for a live music video for the documentary.
Contributors will be thanked with a variety of premium items including exclusive behind the scenes performance and backstage photographs, DVDs of the San Francisco concert, and an array of personally autographed items and more.
This crowdfunding project is made in collaboration with Tokyo Girls' Update website.
Video message from the members of Tokyo Girls' Style :