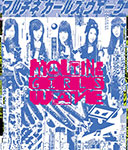 Tokyo Girls' Style and the internet label Maltine Records launched a collaboration project titled Maltine Girls Wave (マルチネガールズウェーブ).
Each member of Tokyo Girls' Style performs a song written by some artists of the label.
The web versions of the music videos have been released. These songs can be listened to on the official website.
Maltine Girls Wave be released on CD, DVD and Blu-ray on January 15.
Majiben Now! feat. Hitomi Arai (新井ひとみ)
Music: dancinthruthenight
Vocal: Hitomi Arai
Video: NiceGolden!!!@contrarede2
Spica feat. Konishi Ayano & Seikatsu Hitsujuhin (小西彩乃 & 生活必需品)
Music: fazerock
Vocal: Ayano Konishi & fazerock
Video: Shiina Pikarin
Umbrella feat. Yamabe Miyu (山邊未夢)
Music: banvox
Vocal: Yamabe Miyu
Video: Momoko Ando feat. Yu-ki Tanaka
Kawaii Rave feat. Shoji Mei (庄司芽生)
Music: Gigandect
Vocal: Mei Shoji
Video: Keiichi Nitta
Day By Day feat. Nakae Yuri (中江友梨)
Music: Avec Avec
Vocal: Nakae Yuri
Video: Rokkaku Ayako