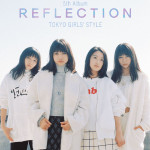 The new album of Tokyo Girls' Style Reflection will be on sale on December 23.
This is the 5th album of the group of idols. It is the first group reduced to four members.

Konishi Ayano announced have issues in the back causing pain, this is why she is currently on hiatus for an indefinite period and unfortunately does not appear on the album cover.
This album marks a new chapter for the Tokyo Girls' Style. Now, the girls want to show that they can work as artists and not only as idols.
The album will be released in several editions.
The CD contains new and remixes songs including their new single Never ever.
Tracklist
CD

Reflection (リフレクション)
Never ever (TJO & YUSUKE from BLU-SWING Remix)
illusion (TJO & YUSUKE from BLU-SWING Remix)
White Snow
READY GO!
Dear Friend
Junpaku no Yakusoku (純白の約束)
YOU & I FOREVER (YUSUKE from BLU-SWING MIX)
White Snow (Royal Mirrorball Mix)
Junpaku no Yakusoku (Royal Mirrorball Mix) (純白の約束)
Zutto Wasurenai. (TJO & YUSUKE from BLU-SWING Remix) (ずっと 忘れない。)
YOU & I FOREVER (Original Mix) (Type-C)