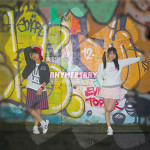 The new album of Rhymeberry entitled RHYMEBERRY was released on December 16.
This is the first album of the idol group. It is sold under the label Particle Records.
The album was produced by Daihatsu and other artists such as Sagawa Hiroki, Josh White and DJ-S.A.L., who already worked with other idol groups like Tokyo Girls' Style and MIKA☆RIKA.
It contains the last indie single Mirrorball.
The covers were unveiled.
The album was released in regular and limited editions. The limited edition CD contains 2 additional titles performed in live.
Tracklist
Regular edition CD

Intro
MIRRORBALL
HAPPY LUCKY
365
I'm a dreaming girl
skit
Rhyme Hate Roku (韻果録)
Fly High
Outro ~a letter from~
365 ~acoustic version~
Limited edition CD

Intro
MIRRORBALL
HAPPY LUCKY
365
I'm a dreaming girl
skit
Rhyme Hate Roku (韻果録)
Fly High
Outro ~a letter from~
365 ~acoustic version~
Fly High (Live version)
Rhyme Hate Roku  (Live version)