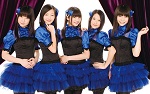 Tokyo Girls' Style Road to Budokan Pre-Live (東京女子流 Road to Budokan プレライブ) will be held on October 16.
The concert will take place at Yokohama Blitz.
The event is presented by PigooHD.
Admission tickets are provided when pre-ordering Tokyo Girls' Style's single Road to Budokan 2012 ~Bad Flower~ at HMV Yokohama World Porters or HMV Lazona Kawasaki stores.
A high five with the group members is scheduled after the live.
Schedule
Date : 16/10/2012
Time : 18:45
Venue : Yokohama Blitz