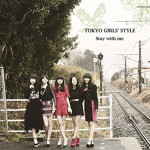 The upcoming single of Tokyo Girls' Style entitled Stay with me will be released on March 11.
This is the 18th single of the idol group. The title song Stay with me was written by Yamabe Miyu.
The tracklist was revealed. Several editions will be available : 4 editions rated A, B (the both containing a CD and a DVD), C and D (the both containing a CD only).
The CD single will contain several songs such as the main one Stay with me, the B-side songs A New Departure and Kasokudo and their instrumental versions. The CD of limited editions will contain a bonus track, the co A-side song of the single Say long goodbye in remix version.
The DVD of the editions A and B will contain the music video of the song Stay with me and its making of.
In addition, the previous single of Tokyo Girls' Style Say long goodbye / Himawari to Hoshikuzu -English Ver.- is on sale since December 10. Also, the 1st best-of album of Tokyo Girls' Style titled 1st Best Album Kirari ☆ (1st BEST ALBUM キラリ☆) will be on sale at the same date as the next single.
Tracklist
CD

Stay with me
A New Departure
Kasokudo (加速度)
Stay with me (Instrumental)
A New Departure (Instrumental)
Kasokudo (Instrumental)
Bonus

Say long goodbye -Vocal Only for REMIX-
DVD (Type A)

Stay with me (Music Video)
Making movie
DVD (Type B)

Odekake Off-Shot Video