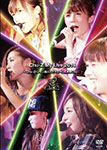 Chu-Z My Live 2014 was released on DVD on February 11.
The concert was held on October 5, 2014 at Shinagawa Stellar Ball, Tokyo.
The members of Chu-Z performed 19 songs, including a medley and their greatest hits, during the live.
Furthermore, Chu-Z latest single Hana no Arch / Brand Boy is on sale since the same day.
Setlist
Iroha Musik (Remix)
One's Life
Bow Wow
Breaking now
Direct to U
Unit Song Medley (ユニットソングメドレー)

Lucky☆Star (Bling Bling Princess)
Eternal Lover (Sun-Chu)
Brand New Days (Sun-Chu)
iya iya iya (Bling Bling Princess)
Onegai School (おねがいスコール) (Sun-Chu)

Summer Dreamer
Chu Me Now!!
Fly High
a.no.ne
Kira Kira Mirai (キラキラ未来☆)
Get your Dream
Bombastic! (ボンバスティック!)
Boukensha (冒険者)
Love☆Parade
16. Girls on the Run
– Encore –
17. Bombastic!
18. My Special
19. Choose My Life