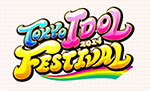 Tokyo Idol Festival 2014 (東京アイドルフェスティバル2014) will be held on August 2-3 in Odaiba in Tokyo.
The ticket sale for foreign fans living outside Japan started on May 23.
A total of more than 100 Japanese idol groups coming from all regions of Japan are expected at Tokyo Idol Festival 2014.
The members will participate in various activites such as live performances, meet-and-greet sessions with fans…
Tokyo Idol Festival is an annual event is produced by Fuji TV.
Furthermore, TIF 2014 Pre Live Event (TIF2014のプレライブイベント) was held on May 2 at Tsutaya O-East.
This post will be updated with all the latest news on the event.
Line-up :
Idoling!!!
Idoling Neo
Idol College
Iris
i☆Ris
Up Up Girls (Kari)
Afilia Saga
Weather Girls
Ultra Girl
AeLL.
Victory
X21
Oranche
Kikkawa You
Kotone Mai
Sakura Gakuin
The Possible
Sunmyu
JK21
Starmarie
Seishun! Tropical Maru
Sexy All Sisters
Takiguchi Narumi with Control-S
Dream5
Doll☆Elements
Dorothy Little Happy
Negaigoto
Negicco
Passpo☆
Puzzle Girls
palet
Power Spot
Fudanjuku
predia
Maria
Lovely Doll
LinQ
Linda 3-sei
amihime
usa☆usa Girls
HR
S★Spicy
Electric Ribbon
Curumi Chronicle
3min
G☆Girls
Through Skills
Tsuri Bit
Terashima Yufu
Tokyo Girls' Style
Tokyo Cheer2 Party
Na-Na
nananon
Barbee
Bakusute Sotokanda Icchome
Hachikin Girls
Vanilla Beans
Bitter & Sweet
Prizmmy☆
Babyraids
Bellring Girls Heart
Why@Doll
Mito Gotochi Idol
Moso Calibration
Young Champion Gakuen
ry-moon
lyrical school
Links
Le Lien
Watch Mina 2014
One Little Kiss
Idol Renaissance
Aoyama Saint Hachamecha High School
Ange☆Reve
Akishibu Project
Especia
OS☆U
Oyayubi Princess
GALETTe
Caramel
KNU
Koike Miyu
Cyntia
Takoyaki Rainbow
Tsuki to Taiyou
Tokyo Performance Doll
P.IDL
Hime Carat
Houkago Princess
Yoshida Rinne
Lucky Colors
Riruchiru
Ani☆Yume Project
Oomori Seiko
Sanspo Idol Reporter (SIR)
Spl∞ash
Dancing Dolls
Nice Girl Trainee
Party Rockets
peach sugar snow
Fine Color
Faint⋆Star
Rev.from DVL
Shizukaze & Kizuna
Shiina Pikarin
So.On Project
Versus Kids
Axell
Cupitron
The Hooperes
Oha Girl
Eien♡Shoujo
C・M・T
Dempagumi.inc
La Pompon