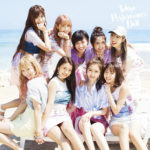 The new mini album Tokyo Performance Doll will be released on September 13th.
It will be entitled Summer Glitter and will be the 1st EP of the idol group Tokyo Performance Doll.
Check the MV for the song Glitter below.
The album will be available in 3 editions.
The regular and type B limited edition will have 6 songs.
The type A limited edition will come with a CD featuring the karaoke versions of the same songs extra and a DVD (including the music video).
Tracklist
Regular Edition

CD

Glitter
Are you with me??
FREEDOM
Kurenai ~beni~ (紅 ~beni~) (Aka no Ryuusei)
Crazy Coaster (クレイジーコースター) (Gucchokiper)
Dongara Gatcha n! Dai Koushin (どんがらがっちゃん! 大行進) (TPD DASH!)
Type A

CD

Glitter
Are you with me??
FREEDOM
Kurenai ~beni~ (紅 ~beni~) (Aka no Ryuusei)
Crazy Coaster (クレイジーコースター) (Gucchokiper)
Dongara Gatcha n! Dai Koushin (どんがらがっちゃん! 大行進) (TPD DASH!)
Glitter (Karaoke)
Are you with me?? (Karaoke)
FREEDOM (Karaoke)
Kurenai ~beni~ (Karaoke)
Crazy Coaster (Karaoke)
Dongara Gatcha n! Dai Koushin (Karaoke)

DVD

Glitter (Music Video)
Type B

CD

Glitter
Are you with me??
FREEDOM
Kurenai ~beni~ (紅 ~beni~) (Aka no Ryuusei)
Crazy Coaster (クレイジーコースター) (Gucchokiper)
Dongara Gatcha n! Dai Koushin (どんがらがっちゃん! 大行進) (TPD DASH!)

DVD

Original bonus video recording schedule (オリジナル特典映像収録予定)
Music Video (PV)