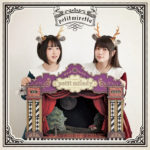 Petit Milady are back this year with a new album.
Their 4th album Petit Miretta will be released on September 20th.
It contains brand-new songs since Petit Milady haven't released any singles this year.
Check out the MV for Boku no Tinker Bell below!
The album will be sold in 3 editions.
The CD will contain a total of 11 new songs. The edition A will have two bonus tracks.
The limited edition A will have a Blu-ray in addition (with the music video and its making-of) while the B will have a DVD in addition (with the MV and other videos).
Tracklist
CD

Girl's Jubilee
Kufuku Kara Yarinaose! (空腹からやりなおせ!)
Love Letter Furo Muka Guya (らぶれたーふろむかぐや)
Eat or Love??
Ad Lib (アドリブ)
Ningyo Hime (BPM of the 21st century) (人魚姫)
Cinderella Beyond The Destiny
Black Snow White
Mahou Tsukatchatta (魔法つかっちゃった)
Boku no Tinker Bell (ぼくのティンカーベル)
One and Only Story
Limited Edition A bonus CD

Spin out drama CD: Opime to Piko Hoshi ga Netoge de Maiban Chatto Shite Iru Kuda 
Audio drama: Nozoka Reta Fufu Kenka
Limited Edition Blu-ray

Boku no Tinker Bell (Music Video)
Boku no Tinker Bell (MV Making Of)
Limited Edition B DVD

Boku no Tinker Bell (Music Video)
Bonus pictures
Auditions for Spin Out Drama: Opime to Piko Hoshi ga Netoge de Maiban Chatto Shite Iru Kuda 
Clip Video (MV)