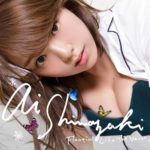 Shinozaki Ai will release her new single Floatin 'Like The Moon on September 6.
It is the 3rd single by Shinozaki Ai, the former member of AeLL.
The single will be sold in regular and limited edition.
The short version of the was unveiled.
The title song is a joyful song that speaks of the moment of our life, where we are just beginning to fall in love with someone.
The B-side track of the single is entitled Moment ; the lyrics were written by Shinozaki Ai herself. This is the first time that Shinozaki Ai participates in the writing of a song.
The single will be sold in 2 editions.
The DVD will contain the clip and its making.
Tracklist
CD

Floatin' Like The Moon
Moment
Floatin' Like The Moon (instrumental)
Moment (instrumental)
DVD

Floatin' Like The Moon (music video)
Floatin' Like The Moon (music video making)
Music Video (PV)