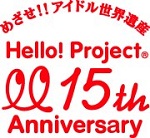 Hello! Project Concert Tour 2012 Summer will be held from July 21 to August 19. Hello! Project 15th anniversary will be celebrated during this event.
The tour is titled Hello! Project Tanjou 15 Shuunen Kinen Live 2012 Natsu (Hello! Project 誕生15周年記念ライブ 2012 夏).
2 different setlists will be performed : Ktkr (Kitakore) Natsu no Fan Matsuri! and Wkwk (Wakuwaku) Natsu no Fan Matsuri!.
Schedule
21/07/2012

Time : 15:00 / 18:30
Venue : Orix Theatre, Osaka
22/07/2012

Time : 14:30 / 18:00
Venue : Orix Theatre, Osaka
04/08/2012

Time : 15:00 / 18:30
Venue : Aurora Hall, Nagoya
05/08/2012

Time : 15:00 / 18:30
Venue : Aurora Hall, Nagoya
11/08/2012

Time : 15:00 / 18:30
Venue : Nakano Sun Plaza, Tokyo
12/08/2012

Time : 11:30 / 15:00 / 18:30
Venue : Nakano Sun Plaza, Tokyo
18/08/2012

Time : 15:00 / 18:30
Venue : Nakano Sun Plaza, Tokyo
19/08/2012

Time : 11:30 / 15:00 / 18:30
Venue : Nakano Sun Plaza, Tokyo