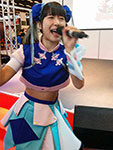 Tsuduki Kana (都築かな) participated in Japan Expo 2015 in Paris Nord Villepinte, France, in early July.
Tsuduki Kana is a former member of Lovely Doll (愛乙女★Doll).
Check out the video and some pictures of Kana-chan live performance.
Japan Expo is the biggest convention dedicated to Japanese culture in Europe. The festival took place on July 2-5, 2015.
Tsuduki Kana participated in the event because she reached the 2nd rank at a contest organised by Showroom.
She performed on Welcome to Japan stage.
This was the first overseas live show of the Japanese idol.
Video
Photos