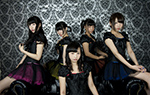 Tsuki to Taiyou (月と太陽) is a Japanese idol group formed in 2014.
They are also known as TsukiTai (つきたい).
It currently consists of 5 members. Each one has been assigned a color.
Biography / History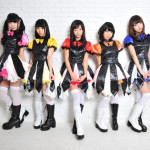 Tsuki to Taiyou (月と太陽) means "moon and sun" in Japanese.
The concept is that the members are 2-sided idols like both astronomical objects.
Tsuki to Taiyou was created in March 2014.
They hold regular live performances in Tokyo, but also in other cities such as Nagoya or Osaka at various idol festivals and events.
Their popularity has risen rapidly.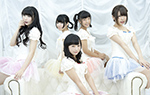 The originality of these girls is their ability to change of clothes quickly in order to symbolize their double personality.
They perform rock songs and kawaii pop tunes.
Tsuki to Taiyou's 1st single Aru Idol no Zekkyou / Zettai Zenkai (或アイドルの絶叫 / ゼッタイゼンカイ) was released in December 2014. The CD was available nationwide.
Their 1st mini-album 2014 went on sale in March 2015. It celebrated the 1st anniversary of the idol group.
Nanami and Sayaka appear on the Cheerz mobile app for smartphones since March 2015.
Sayaka is inactive due to poor physical health since May 2015.
Profile
Tsuki to Taiyou (月と太陽)
Years active : 2014 – present
Label : Fwd Inc.
Agency : –
Members
Tomomi (ともみ) / Tomonya (ともにゃ) – Red
Megumi (めぐみ) / Meguchan (めぐちゃん) – Orange
Sayaka (さやか) / Sayanee (さやねえ) – Blue
Nanami (ななみ) / Nanamiinu (ななみーぬ) – Yellow
Natsumi (なつみ) / Naatan (なあたん) – Pink
Discography
Singles
23/12/2014 : Aru Idol no Zekkyou / Zettai Zenkai (或アイドルの絶叫 / ゼッタイゼンカイ)
Albums
Links
News