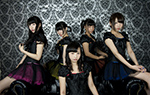 Tsuki to Taiyou's 1st mini-album 2014 will be released on March 16.
The CD contains 6 tracks. These rock and pop songs are regularly performed at the lives of the idol group.
The album celebrates the 1st anniversary of Tsuki to Taiyou.
Only one edition is available.
Furthermore, Tsuki to Tayou's 1st single Aru Idol no Zekkyou / Zettai Zenkai (或アイドルの絶叫 / ゼッタイゼンカイ) is on sale since December 23.
Sayaka and Natsumi's birthday live will be held on March 7 at Birth Shinjuku, Tokyo.
Tracklist
Setsunakute, Setsunakute (切なくて、切なくて)
LoveEnjoy
D.u.W
S.u.F
Do Re Mi Fa Sora (どれみふぁ空)
Lucky Day! (ラッキーDay!)