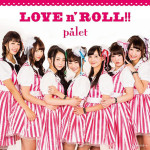 Palet's new album Love n'Roll will be released on March 4.
The album contains 15 songs including the idol group's latest singles and 6 new tracks.
The short version of the MV for Run to the New Wind has been unveiled.
The lyrics of this new song were written by Ijichi Hiromasa (Speed). The music was composed by Komoro Tetsuya.
This CD is the 1st full and original album from the idol group.
The limited edition includes a bonus DVD featuring the music video, its making-of and a documentary on the unit.
Furthermore, Palet Live Tour 2015 ~Love n'Roll!!~ will be held from March 21 to April 5. Concerts are scheduled in Osaka, Nagoya and Tokyo.
Palet 3rd Anniversary Live ~Time to Change~ will take place on June 25.
Tracklist
CD

Love n'Roll!!
Believe in Yourself !
Run to the New Wind
Victory
You Are my Miracle
Glory Days
Arigatou (ありがとう)
Kimi no Koto (キミノコト)
Keep on Lovin' You
Wonderful Girl
サマホリ ~Summer Holic~
Shake my Soul
Snow Distance
Love Winter Memories
Koi Sakura (恋桜)
DVD

Run to the New Wind (Music Video)
2. Run to the New Wind (Making of Music Video)
3. Documentary of Palet 2014
Music Video (PV)