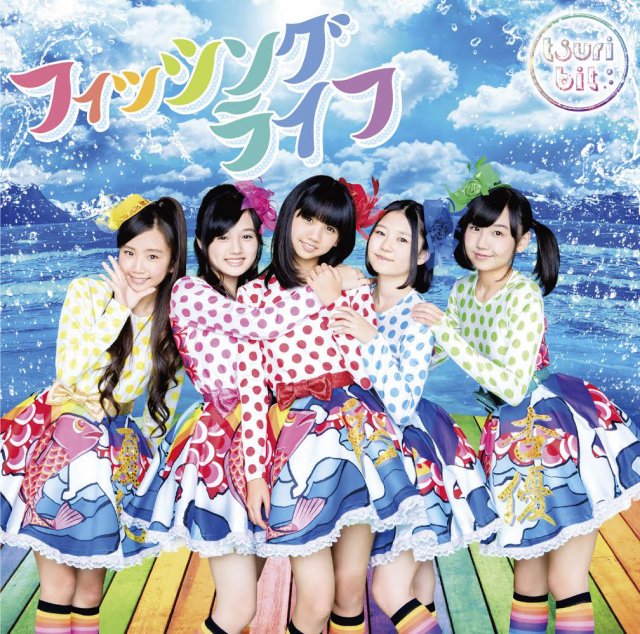 The new album of Tsuri Bit Fishing Life (フィッシングライフ) will be released on December 10.
This is the first album of the idol group since its beginning in April 2013. It mainly deals with the theme of fishing as well as the year-end festivities like Halloween, Christmas, etc.
The album will be available in two versions: regular and limited. The regular edition will include a CD of 16 tracks, including the Tsuri Bit's first singles previously released, whereas the limited edition will include the same CD with a bonus track and a DVD in surchage. The DVD will contain the music video of an original song on the album Go! Go !! Fishing.
Discover the music video for the new song Go! Go !! Fishing.
Tracklist
Go! Go !! Fishing
Himanatsuri (ひまなつり)
Start Dash! (スタートダッシュ!)
FISH ISLAND
Osanaka Song (おさかなソング)
Tsukasa Paradise (司パラダイス)
Zukizuki Monogatari ~Koi no Halloween Dai Sakusen (ズキズキ物語 ~恋のハロウィン大作戦~)
Kokuhaku Switch (告白スイッチ)
Tabidachi Kirari. (旅立ちキラリ。)
Manatsu no Tentai Kansoku (真夏の天体観測)
Ramune-iro no Sketch (ラムネ色のスケッチ)
Vanilla na Sora (バニラな空)
Kimekime Christmas (キメキメクリスマス)
Koi no Magical Suites ~Anata no Koi wo Kanaemasu~ (恋のマジカルスイーツ ~あなたの恋を叶えます~)
Moonlight Kiss (ムーンライトキッス)
Odoro yo, fish (踊ろよ、フィッシュ)
Bonus CD (limited edition)
Manatsu no Tentai Kansoku ~Next Summer Edition~ (真夏の天体観測 ~Next Summer Edition~)
Go! Go !! Fishing (MV Video + Bonus Video)
Music Video (MV)