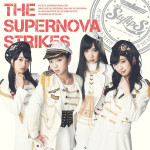 StylipS' new album The Supernova Strikes will be released on November 26.
The album contains 16 songs including StylipS' latest singles Prism Sympathy, Nova Revolution and Junsui na Fujunbutsu.
The songs Jelly Beans Diary and Jelly Beans Diary are respectively performed by duets  Ito Miku / Toyota Moe and Noto Arisa / Matsunaga Maho.
The limited editions include a DVD or a Blu-ray featuring a lot of bonus footage such as music videos, making-of, shows of the idol group, live performances…
Furthermore, StylipS First Live Tour 2015 The Supersonic Supernova is going to be held from March to April 2015 in Tokyo, Nagoya and Osaka.
Tracklist
CD

Melancholic Sunshine
Prism Sympathy
Making Of "Especially" ~トクベツのできるまで~
Jelly Beans Diary (ジェリービーンズ・ダイアリー) (Like Cover Girl) feat. Ito Miku & Toyota Moe
Tsunago Kizuna Tsusumu Kodoku (ツナグキズナ・ツツムコドク)
Addicted
Hoshi Naru Yoru no Yuuwakusha (星鳴る夜の誘惑者)
The Supernova Strikes (Inst.)
Nova Revolution (Novaレボリューション)
Resonant World feat. 松永真穂
All You Need Is Dance feat. Noto Arisa & Matsunaga Maho
Android Rhapsody
Junsui nz Fujunbutsu (純粋なフジュンブツ)
Brand-new Style!! ~Mahou Mitai na Show time~ (~魔法みたいなShow time~) (Step two)
Spica.
Ushiro Kami Journey (うしろ髪ジャーニー)
DVD & Blu-ray (Type A / B)

Music Video

Melancholic Sunshine
Junsui na Fujunbutsu
Nova Revolution
Prism Sympathy

Dance Style

Melancholic Sunshine
Junsui na Fujunbutsu
Nova Revolution
Prism Sympathy

Making Style

Melancholic Sunshine (Making-of)

Otome Tika Theater (乙女ティカシアター)

mission 1
mission 2
mission 3

Otome Shou Moratorium! (乙女荘もらとりあむっ!)

Episode 1 (第1話)
Episode 2 (第2話)
Episode 3 (第3話)
Blu-ray (Type B)

StylipS[Brand-new Style!! Volume six "春の乙女大三角"]

Nova Revolution
Miracle Rush
Addicted
All You Need Is Dance
Resonant World
Blue Moon Dream
Tsu・Ba・Sa
Tsunagu Kizuna Tsutsumu Kodoku
Jelly Beans Diary (Like Cover Girl)
Prism Sympathy
Junsui na Fujunbutsu
Spica.
Ushiro Kami Journey
Brand-new Style!! ~Mahou Mitai na Show time~ (step two)
Junsui na Fujunbutsu (Encore)