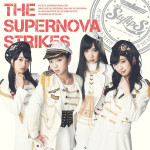 StylipS' new album The Supernova Strikes will be released on November 26.
The album contains 16 songs including StylipS' latest singles Prism Sympathy, Nova Revolution and Junsui na Fujunbutsu.
The songs Jelly Beans Diary and Jelly Beans Diary are respectively performed by duets  Ito Miku / Toyota Moe and Noto Arisa / Matsunaga Maho.