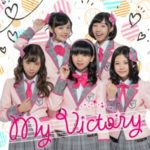 Tsuri Bit will release their single My Victory on February 1st.
This is the 2nd digital single of the idol group.
The single will be available for legal download on iTunes store.
The MVs for the song have been unveiled.
In the original clip, the group receives a life lesson from a great teacher dressed in some ridiculously bright clothing. A dance shot version of the clip was also posted on YouTube.
Bajune Tobeta was charged of writing the lyrics of the song. Kushita Mine was responsible for composing and arranging the song.
Music Video (PV)