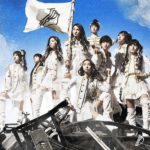 Tokyo Performance Doll will release their new abum We Are TPD on January 18, 2017.
This is the idol group's debut original album with the new members and the first revival album for more than 20 years.
The tracklists were unveiled.
The original CD will include the group's songs with current members including singles : Brand New Story, Dream Trigger, Dreamin', Gyakkou × Raisan and Junai Chaos. It will also contain the single Sensei no Okiniiri from of the sub-unit Dorusen from TPD.
The additional CDs of the limited editions B and C will contain re-recorded songs from the unit (possibly subgroups and solists) which were released in the 1990s by the original members.
The Blu-ray will contain music videos from singles and live footage.
Tracklist
CD1

Stay Gold
Brand New Story
Dreamin'
Time
My Universe
Heart Waves
People
Nagareboshi (ナガレボシ)
Gyakkou × Raisan (逆光×礼賛)
Junai Chaos (純愛カオス)
Survival!!
Dream Trigger
It's Up To Me
Raise Your Hands
Diamond wa Kizutsukanai -Rearranged ver.- (ダイヤモンドは傷つかない) (Regular Edition Bonus Track)
Itoshisa to Setsunasa to Kokoro Tsuyosa to -Rearranged ver.- (恋しさと せつなさと 心強さと) (Regular Edition Bonus Track)
Sensei no Okiniiri / Dorusen from TPD (センセイのお気に入り / どるせん from TPD) (Regular Edition Bonus Track)
Weekend Paradise -Rearranged ver.- (Regular Edition Bonus Track)
CD2 – Limited Edition B

Wake Me Up!! -Rearranged ver.-
Diamond wa Kizutsukanai -Rearranged ver.- (ダイヤモンドは傷つかない)
Jyuudai ni Tsumi wa Nai -Rearranged ver.- (十代に罪はない)
Itoshisa to Setsunasa to Kokoro Tsuyosa to -Rearranged ver.- (恋しさと せつなさと 心強さと)
Senyaichiya -Rearranged ver.- (千夜一夜)
Tasogare Chouchou -Rearranged ver.- (黄昏蝶々)
Darlin'
Kokoro no Rule -Rearranged ver.- (心のルール)
Futari no Story (ふたりのストーリー)
Raining
Ochame na Juliet -Rearranged ver.- (おちゃめなジュリエット)
Sayonara no Housoku -Rearranged ver.- (サヨナラの法則)
Ruby Chase –Rearranged ver.-
Slash Dance -Rearranged ver.-
Yume wo -Rearranged ver.- (夢を)
Overnight Success -Rearranged ver.-
Kimochi wa ING -Rearranged ver.- (気持ちはING)
CD2 – Limited Edition C

Tokyo Romance -Rearranged ver.-
Tokyo Hackers Night Groove –Rearranged ver.- (東京ハッカーズナイト・グル―ヴ)
Kiss wa Shounen wo Rouhi Suru -Rearranged ver.- (キスは少年を浪費する)
Catch!! -Rearranged ver.-
Junai 90's -Rearranged ver.- (純愛90's)
Kajitsu (果実)
Begin The Kirei -Rearranged ver.- (BEGIN THE 綺麗)
Shijousaidai no Yuuwaku –Rearranged ver.- (史上最大の誘惑)
Airport -Rearranged ver.-
Yoake no Heart -Rearranged ver.- (夜明けのハート)
Shadow Dancer –Rearranged ver.-
Swimmy
Viva! Que Sera Sera –Rearranged ver.- (ビバ!ケ・セラ・セラ)
Just Like Magic –Rearranged ver.-
Fire -Rearranged ver.-
Be Born -Rearranged ver.-
Weekend Parade -Rearranged ver.-
Blu-ray

Music Video

Brand New Story
Dream Trigger
Dreamin'
Gyakkou × Raisan
Junai Chaos
Sensei no Okiniiri  / Dorusen from TPD (センセイのお気に入り / どるせん from TPD)
Domobics (Other ver.) / Tokyo Performance Domo (Domobics -どーもびくす- / 東京パフォーマンスどーも)

Live Video – Tokyo Performance Doll Dance Summit "DREAM CRUSADERS" at TSUTAYA O-EAST 2016.9.16

Stay Gold
Survival!!
Itoshisa to Setsunasa to Kokoro Tsuyosa to -Rearranged ver.- (恋しさと せつなさと 心強さと)
Junai Chaos
Raise Your Hands