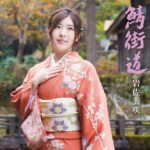 Iwasa Misaki begins the year 2017 with a new single entitiled Saba Kaidou (鯖街道).
It's the 6th single of the former AKB48 member. It will be released on January 10.
The short version of the MV was posted last December.
The single will be available in two versions. The CD is different depending on the edition.
The single covers remind two seasons: autumn and winter. It's during these seasons that fishing is very important ; like the title of the main song (the mackerel road) and in the video clip.
The B-side track Ishikari Banka is a cover of Katahara Mirei's song.
Nagori Yuuki is an acoustic version of Iruka's song released in 1975; Iwasa Misaki plays herself the guitar in the song.
Another B-side track (of the limited edition) Futarizake is a cover of Kawanaka Miyuki's song.
Instrumental versions (karaoke) of these songs will also appear in the single.
The DVD of the limited edition will include the music video and its making of.
Tracklist
Regular Edition

CD

Saba Kaidou (鯖街道)
Ishikari Banka (石狩挽歌)
Nagori Yuuki (Acoustic Version) (なごり雪)
Saba Kaidou (Instrumental)
Ishikari Banka (Instrumental)
Nagori Yuuki (Instrumental)
Limited Edition

CD

Saba Kaidou (鯖街道)
Futarizake (ふたり酒)
Saba Kaidou (Instrumental)
Futarizake (Instrumental)

Saba Kaidou (Music Video)
Saba Kaidou (Making Video)
Music Video (PV)