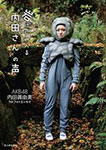 Uchida Mayumi's 1st photo essay Iwa ni Shimiiru "Uchida-san" no Koe (岩にしみ入る「内田さん」の声) will be released on February 22.
Uchida Mayumi is a member of AKB48 Team K since 2010. She won the AKB48 Janken Tournament 2010 and was the center for their 19th single Chance no Junban (チャンスの順番).
The book has 128 pages and includes many pictures of the idol wearing a rock costume.
It refers to the Janken Tournament that she won because she was wearing this costume at the event.