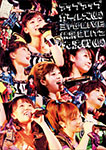 Up Up Girls (Kari) 3rd Live Yokohama Blitz Daikessen (アップアップガールズ(仮) 3rd Live横浜Blitz大決戦(仮)) will be released on DVD on July 31.
The DVD contains the 20 songs performed during the concert.
It also includes a bonus disc featuring rehearsal and making-of footage.
The concert was recorded on April 13 at Yokohama Blitz.
Furthermore, Up Up Girls' new single Summer Beam / Up Up Typhoon (サマービーム / アップアップタイフーン) will go on sale on July 24.
Setlist
Disc 1

Ano Saka no Ue Made (あの坂の上まで)
Ichiban Girls! (イチバンガールズ!)
Marvel Hero (マーブルヒーロー)
Sakura Drive
Mechakyun Summer (メチャキュン♡サマー( ´ ▽ ` )ノ)
Kakko Tsukete Ii Desho! (カッコつけていいでしょ!)
Bare Bare I Love You (バレバレI Love You)
Yuudachi! Through the Rainbow (夕立ち!スルー・ザ・レインボー)
Natural Born Idol (ナチュラルボーン・アイドル)
RespecTokyo (リスペクトーキョー)
Survival Girls (サバイバルガールズ)
Shooting Star
Chopper Chopper (チョッパー☆チョッパー)
Upper Rock
Onegai Miwaku no Target (お願い魅惑のターゲット)
Uppercut (アッパーカット!)
End of the Season
Next Stage
Sutorera! ~Straight Up~ (ストレラ!~Straight Up!~)
Cyalume (サイリウム)
Disc 2

Rehearsal Footage (リハーサル映像)
Making of (メイキング)