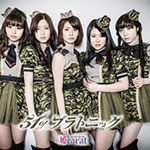 Hime Carat's new single 51% Platonic (51%プラトニック) will be released on June 26.
It is the major debut single of Hime Carat under the label Warner Music Japan.
The limited editions Type A and B include a DVD featuring the music video, the making-of, and bonus footage.
The Type C comes with a 24-page photo booklet.
Regular Edition
CD

51% Platonic (51%プラトニック)
High Heel Kick (ハイヒールキック)
51% Platonic (51%プラトニック) (Dance Edit)
Limited Edition Type A / B / C
CD

51% Platonic (51%プラトニック)
High Heel Kick (ハイヒールキック)
51% Platonic (51%プラトニック) (Dance Edit)
51% Platonic (51%プラトニック) (Instrumental)
DVD (Type A)

51% Platonic (51%プラトニック) (Music Video)
51% Platonic (51%プラトニック) (Making-of)
DVD (Type B)

51% Platonic (51%プラトニック) (Music Video)
51% Platonic (51%プラトニック) (Choreography Lesson Video)
24-page photo booklet (Type C)