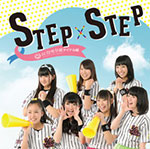 Yamaguchi Kassei Gakuen's 3rd single Step × Step will be released on June 26.
The CD contains 3 songs.
Step × Step has been selected as the opening theme song for Kirari Natsu 2013 (きらり夏2013) which is the high school baseball tournament in Yamaguchi (高校野球山口大会).
Check out the music video.
Tracklist
Step × Step
Fire Wire (ファイヤーワイヤー)
Choushuu Seven (長州Seven)
Music Video (PV)