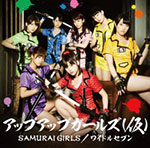 Up Up Girls (Kari) will release their new single Samurai Girls / Waidoru Seven (Samurai Girls / ワイドルセブン) on September 4.
This double A-side single is their 7th CD under T-Palette Records.
The song Samurai Girls was written and composed by michitomo.
The lyrics of Waidoru Seven (ワイドルセブン) were written by Onoda Hiroyuki, and the music composed by mochilon.
Furthermore, the DVD Up Up Girls 3rd Live Yokohama Blitz Daisakusen (アップアップガールズ(仮) 3rd Live横浜Blitz大決戦(仮)) will go on sale on July 31, and Up Up Girls Taiban Angya (Kari) ~Official Bootleg Box~ (アップアップガールズ(仮)対バン行脚(仮)) in late August.
Tracklist
Samurai Girls
Waidoru Seven (ワイドルセブン)
Samurai Girls (Instrumental)
Waidoru Seven (ワイドルセブン) (Instrumental)
Music Video (PV)