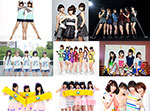 T-Palette Records Kanshasai 2013 (T-Palette Records感謝祭2013) will be held on December 15.
Vanilla Beans, Negicco, Shizukaze & Kizuna, Lyrical School, Up Up Girls (Kari), Rhymeberry, Caramel☆Ribbon, Na-Na, and One Little Kiss will participate in the live performance.
All these idol groups are under the label T-Palette Records.
The concert will take place at Laforet Museum Roppongi in Tokyo.
Schedule
Date : 15/12/2013
Time : 15:00
Venue : Laforet Museum Roppongi, Tokyo
Line-up :

Vanilla Beans
Negicco
Shizukaze & Kizuna
Lyrical School
Up Up Girls (Kari)
Rhymeberry
Caramel☆Ribbon
Na-Na
One Little Kiss