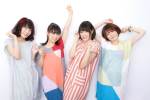 It seems that the group of idols One Little Kiss (ワンリルキス) show no activity since over a year.
The quartet hasn't released anything since August 2014.
The girls released, for the last time, a tribute album to Pizzicato Five in collaboration with other idol groups of T-Palette Records in April 2015 and have left the label since the end of 2015.