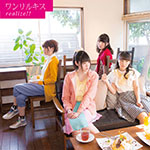 One Little Kiss' new single Realize!! will be released on April 30.
This is the first single from One Little Kiss for 7 months.
The MV has been released.
The lead song Realize!! was written and composed by Hosono Shinichi (ex Magoo Swim) and Sawabe Wataru.
The coupling song Drop was written and composed by Ito Yoichiro a.k.a. Akakage and Morio Takashi (Mad Spueezer).
The CD is produced by Tanaka Takashi (Sunny Day Service).
Only one edition of the single is available. The CD contains 2 tracks and their instrumental versions.
In addition, One Little Kiss will hold 6 live performances and  release events. Here is the schedule :
29/04/2014 : Shinseido Sunshine City Alpa, Tokyo
03/05/2014 : Tower Records Shibuya, Tokyo
05/05/2014 : Tower Records Shinjuku, Tokyo
09/05/2014 : Tower Records Akihabara, Tokyo
10/05/2014 : Tower Records Shinjuku, Tokyo
11/05/2014 : HMV, Nagoya
Tracklist
Realize!!
Drop
Realize!! (Instrumental)
Drop (Instrumental)
Music Video (PV)