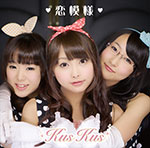 Kus Kus' new single Koi Moyou (恋模様) will be released on June 11.
It is the 2nd single from Kus Kus.
The MV has been released.
It will be the ending theme song for the TV show Akko ni Omakase! (アッコにおまかせ!) on TBS in June.
The lyrics of the lead song were written by Tanaka Akihisa. He has also composed and arranged the music.
3 versions are available. The coupling song is different for each one of them.
The CD comes with a photo randomly selected among 4 models.
Furthermore, Kus Kus will participate in Uta Musume GW Special Event! Live (ウタ娘GW Special Event!定期ライブ) with other idol groups on May 4 at Akasaka Genki in Tokyo.
Tracklist
Type A

Koi Moyou (恋模様)
Hatsukoi (ハツコイ)
Type B

Koi Moyou (恋模様)
Tirachuru (ティラチュル)
Type C

Koi Moyou (恋模様)
1% no Yuuki… (1%の勇気・・・。)
Music Video (PV)