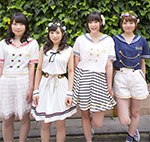 One Little Kiss will release their new eponymous single One Little Kiss (ワンリルキス) on August 5.
This single is produced by Nakamura Kazuyo. He also composed the lyrics and the music of the title song.
The lyrics of the B-side track Maru Sankaku Shikaku (まる・さんかく・しかく) were written by Yamada Tomoko. The music was composed by Mihara Satoshi.
Tanaka Nakashi (bass, Sunny Day Service), Machida Masahiro (guitar, 100s), Hosono Shinichi (keyboard, ex magoo swim) and Sankon Jr (drums, ulfuls) participated in the recording as musicians.
The CD includes 2 songs and their instrumental versions.
Tracklist
One Little Kiss (ワンリルキス)
Maru Sankaku Shikaku (まる・さんかく・しかく)
One Little Kiss (ワンリルキス) (Instrumental)
Maru Sankaku Shikaku (まる・さんかく・しかく) (Instrumental)