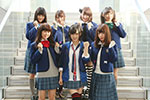 NMB48 Geinin The Movie Returns Sotsugyou! Owarai Seishun Girls!! Arata Naru Tabidachi (NMB48 げいにん!The Movie リターンズ 卒業!お笑い青春ガールズ!!新たなる旅立ち) will be released in theaters on July 25 in Japan.
Yamamoto Sayaka, Watanabe Miyuki, Yamada Nana, Ogasawara Mayu, Yabushita Shu, Kotani Riho, and Jonishi Kei are starring in the movie.
The film is a spin-off of the show of the same name. The idols play as members of a comedy club at the Namba Girls School (なんば女学院).
In conjunction to this release, the TV show NMB48 Geinin!!! 3 (NMB48 げいにん!!!3) will start airing on TV Tokyo (日本テレビ) soon.
Furthermore, the 2nd album from the idol group will be on sale on August 13.