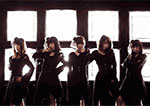 Tsubasa Fly's new single Unforgettable Days will be released on July 8.
This is the 2nd single from Tsubasa Fly.
It is an "emo" rock song.
The Music Video, the new photo and the new costumes of the idol group have been unveiled.
The lyrics and the music of the lead song were written and composed by Matsumura Kenta and Iguchi Ichiro (Scrambles).
3 editions are available. The B-side track is different for each one of them.
The limited editions come with a DVD featuring the MV and bonus footage.
Tracklist
Regular Edition

CD

Unforgettable Days
Fly Again
Unforgettable Days (Instrumental)
Fly Again (Instrumental)
Type A

CD

Unforgettable Days
Fly Again
Unforgettable Days (Instrumental)
Fly Again (Instrumental)

DVD

Fly Again (Music Video)
Midori Tantou no PM Miyazawa Nonoka Kanshuu "PM Tokubetsu Henshuu Himitsu no DVD ~Music Video Making~" (緑担当のPM宮沢野乃香監修「PM特別編集・秘密のDVD 〜Music Videoメイキング編〜」)
Type B

CD

Unforgettable Days
Yuuzora Hanabi (夕空花火)
Unforgettable Days (Instrumental)
Yuuzora Hanabi (夕空花火) (Instrumental)

DVD

Unforgettable Days (Music Video)
Midori Tantou no PM Miyazawa Nonoka Kanshuu "PM Tokubetsu Henshuu Himitsu no DVD ~Music Video Making~" (緑担当のPM宮沢野乃香監修「PM特別編集・秘密のDVD 〜Music Videoメイキング編〜」)
Music Video (PV)