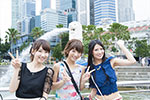 French Kiss will host a new TV show titled French Kiss no Kiss Tabi (フレンチ・キスのキス旅).
The concept is that AKB48 members Kashiwagi Yuki, Takajo Aki and Kuramochi Asuka travel abroad in order to discover foreign countries and cultures. The 3 girls go there for vacation and face various challenges.
Check out some photos of the 1st episode in Singapore.
French Kiss no Kiss Tabi will start airing on TV Tokyo on July 1. The TV program will be broadcast every Tuesday night.
The idol group is a sub-unit of AKB48.
The theme song for the show is their 6th single Omoidasenai Hana (思い出せない花) which is going to be on sale on October 1.