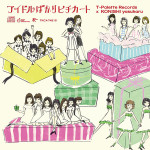 The idol label T-Palette Records pays tribute to the shibuya-kei group Pizzicato Five with the compiling album entitled Idol Bakari Pizzicato -T-Palette Records × Konishi Yasuharu (アイドルばかりピチカート) which will be released on next April 22.
The idol groups of T-Palette Records perform the most popular songs of Pizzicato Five, a band from Hokkaido.
The groups are Vanilla Beans, Negicco, lyrical school, One Little Kiss and Idol Renaissance.
For those who do not know Pizzicato Five, this is a shibuya-kei and pop group very popular in Japan, formed in 1985 and disbanded in 2002. The group is also known as P5. Most of the best known songs of the group have been sung by the singer Nomiya Maki. You can watch a Pizzicato Five's photo in the 1990s at the bottom of the page.
Furthermore, Vanilla Beans had already covered two songs of the band in 2010 and 2011 : The Night Is Still Young – 7:00 pm Tokyo under the title Tokyo wa Yoru no Shichiji (東京は夜の七時) included in the compiling album VaniBest and Baby Portable Rock (ベイビィ・ポータブル・ロック) from the single Tengoku e no Kaidan (天国への階段). The girls also held a live in July 2013, with Nomiya Maki at the event Kaze wa Fuku no Ka!? Vol.4 ~Dreamed About The Night Is Still Young – 7:00 pm Tokyo held at Shinjuku LOFT in Tokyo.
The tracklist was unveiled. You can see it below.
Tracklist 
Fukeiki (不景気) – Idol Renaissance
Airplane (エアプレイン) – Idol Renaissance
Watashi no Subete (私のすべて) – Vanilla Beans
It's a Beautiful Day (イッツ・ア・ビューティフル・デイ) – Vanilla Beans
Jolly Bubbly Lovely (ジョリ・バブリ・ラヴリィ) – Negicco
Hippie Day (ヒッピー・デイ) – lyrical school
Gendaijin (現代人) – One Little Kiss
Tout va Bien (Banji Kaichou) (万事快調) – One Little Kiss
Magic Carpet Ride (マジック・カーペット・ライド) – Negicco
Sweet Soul Revue (instrumental)
Sweet Soul Revue (スウィート・ソウル・レヴュー) – Vanilla Beans