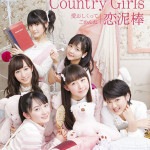 Country Girls released their new single Itooshikutte Gomen ne / Koi Dorobou (愛おしくってごめんね / 恋泥棒) on last March 25.
It contains a double A-side.
This is the first single of Country Girls. The idol group was reformed after his hiatus in 2009, previously known as Country Musume. The group contains five new members and the playing manager Tsugunaga Momoko of Berryz Kobo.
The single was a success for the idol group ; it ranked the 3rd position at Oricon Weelky Single Chart.
The tracklist and the music videos were unveiled.
The single is available in several versions : two regular editions rated A and B (CD only) and two limited ones also rated A and B (CD and DVD extra).
The CD includes the main songs Itooshikutte Gomen ne and Koi Dorobou and their instrumental versions. The DVDs include the music videos and their making of.
Discover the clips video of the songs Itooshikutte Gomen ne and Koi Dorobou below.
Tracklist
CD

Itooshikutte Gomen ne (愛おしくってごめんね)
Koi Dorobou (恋泥棒)
Itooshikutte Gomen ne (Instrumental)
Koi Dorobou (Instrumental)
Limited Edition A DVD

Itooshikutte Gomen ne (Music Video)
Itooshikutte Gomen ne MV Making of & Member Q&A (Ozeki, Morito, Yamaki)
Limited Edition B DVD

Koi Dorobou (Music Video)
Itooshikutte Gomen ne MV Making of & Member Q&A (Shimamura, Inaba, Tsugunaga)
Music Video (PV)