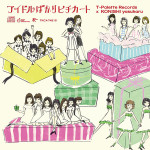 The idol label T-Palette Records pays tribute to the shibuya-kei group Pizzicato Five with the compiling album entitled Idol Bakari Pizzicato -T-Palette Records × Konishi Yasuharu (アイドルばかりピチカート) which will be released on next April 22.
The idol groups of T-Palette Records perform the most popular songs of Pizzicato Five, a band from Hokkaido.
The groups are Vanilla Beans, Negicco, lyrical school, One Little Kiss and Idol Renaissance.