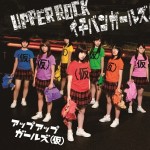 Up Up Girls' 7th single Upper Rock / Ichiban Girls! (Upper Rock / イチバンガールズ!) will be released on November 7.
It is a double A-side single.
The song Ichiban Girls was previously sold during the live Up Up Girls vs The Possible held on October 7 at Shinjuku Blaze.
This CD is the last indies single from Up Up Girls before their major debut under the label T-Palette Records.
Regular Edition
CD

Upper Rock
Ichiban Girls (イチバンガールズ!)
Upper Rock
Ichiban Girls!