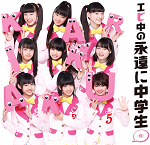 The DVD and Blu-ray box sets from the TV show Ebichu no Eien ni Chuugakusei (エビ中の永遠に中学生) hosted by Shiritsu Ebisu Chuugaku will be released on December 12.
These box sets include 6 discs featuring volumes 1 to 6 broadcast on Tokyo MX between April and September 2012. The also contain bonus video contents.
The products will be on sale for a limited time only from December 12, 2012 to March 31, 2013.